Media Highlights
Collaboration was name of the game in 2015 as the Corporate Communications, Press Relations and Commercial teams worked closer than ever to promote equestrian sport to both new and existing audiences. With many high profile events in the calendar it was a busy year and a golden opportunity to raise the profile of equestrian sport.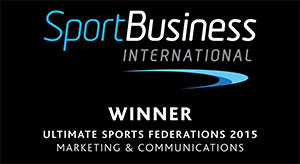 Headlines
IMG Productions join as the new FEI TV production partner
Increase in broadcast distribution globally
Development of new social platforms
Record global press coverage for sponsored series and key events
Appointment of Athletia Sports and investment in YouTube resulting in a 206% increase average view time.
Introduction of dedicated on-site live social coverage at FEI Finals and Championships providing greater coverage for fans, exclusive coverage and awareness for sponsors.
Award Winning Marketing and Communications Team
In the inaugural SportBusiness Ultimate Sports Federation and Association Awards the FEI Communications team won the Marketing and Communications Category praising the constant promotions of equestrian sport, the innovative approach to communications partnerships such as with CNN & Reuters and the broadcast provision through FEITV.